This weekend I'm helping the
Books Are My Bag
campaign celebrate the brick and mortar bookshop by sharing a bit about my favourites.
A good bookshop feels like home to me, so finding one to call my own was an important part of settling into the UK for me. Fortunately I found not one, but two! Within two blocks of each other no less!
Waterstones High Street
and
Waterstones New Street
. And don't you go saying 'But Sarah, those are evil chain stores.' Both of these stores feel like traditional book stores, with staff to match. I also come from a country where the last proper chain book store closed in 2011 - I'm as happy to see a proper chain thriving as I am an independent.
So what do I love about them?
The feel! And that they feel so different despite being the same chain and so close together. High St is all young and hip, with its coffee shop and ginormous graphic novel section. New St has more of an old world, traditional feel with gorgeous sweeping staircases.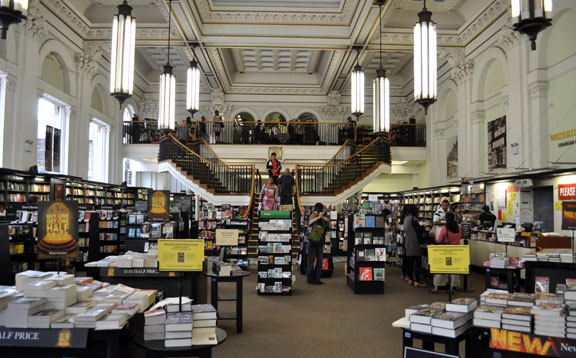 New St
High St
I love the enthusiasm of the staff and the great range of author and other events they put on - there is always something coming up to look forward too.
I love the high chance of finding the book I actually want on the shelves, even if it's obscure, rather than just the absolute bestsellers.
I love the effort the put into promoting books and authors people might overlook. They actively promote diversity - when I was in High St last week a Japanese author's novel was front and centre and a short story collection was being promoted at the cash desk.
They don't shy away from genre fiction and embrace phenomenon like adults reading YA. I loved a recent display showcasing Rainbow Rowell's adult and teen writing together.
All great reasons to visit, and keep visiting. So, if you're out and about this weekend pop into a Brick and Mortar book store and say 'hey, thanks for keeping on flying the flag for READING, not just BUYING great books.' And if you're in the Birmingham area, go get yourself lost (literally, it's not hard to do) in a Waterstones.