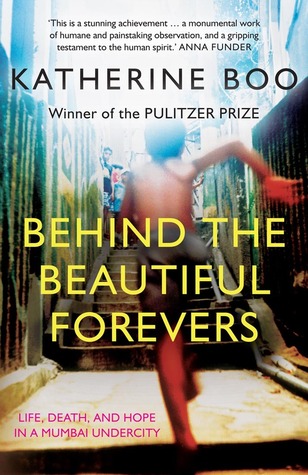 From Pulitzer Prize-winner Katherine Boo, a landmark work of narrative nonfiction that tells the dramatic and sometimes heartbreaking story of families striving toward a better life in one of the twenty-first century's great, unequal cities.
Behind the Beautiful Forevers
Boo, Katherine (2012). [Genre: narrative non-fiction]
Behind the Beautiful Forevers
is a narrative non-fiction tale, that follows various characters over approximately three years in a Mumbai slum. The title refers to the concrete wall that shields foreign tourist traffic going to and from the nearby international airport from seeing the slum. The wall is pasted over with travel advertisements, the slogan of which is 'Beautiful Forevers' . . . thus the lives of those in the slum are quite literally,
Behind the Beautiful Forevers.
For the most part, I truly loved this book. Boo uses a clever technique of starting us in the middle of the story, in the aftermath of the books climax - the self-immolation of one of the book's central characters - before flashing back so we can get to know those involved and the circumstances that led to that moment. It draws you in quickly and adds an air of mystery to the tale, as the actions of characters in the prologue doesn't seem to match the personalities we learn about once we start from the beginning.
Boo is also extremely talented in terms of portraying an overall picture of life in a slum. She does not create caricatures, or find everyone hopeful or helpless. Like all of humanity, the inhabitants of Annawadi have fears, hopes and dreams that they cling too and over three years some succeed, while others fail. Although Boo is undoubtedly describing an underworld which would be completely unknown to most of her readers, she is also simply describing life, and the feelings and emotions her characters describe are familiar to all. You find yourself rooting for them, hoping that they can in fact make a better life for themselves.
The portrayal of everyday corruption (which many of the slum's inhabitants are happy to live within, recognising that it can be a tool for their future like any other) is fascinating reading. Although I feel it *should* make me sad for what our world has in many places become, Boo does a fantastic job of twisting that to-Western narrative, until like the slum residents I found myself cheering for corruption as it lifted lives out of obscurity.
All that being said, as a reader who has been trained in anthropological method, there were aspects of
Behind the Beautiful Forevers
that I found deeply problematic. At it's heart, the book is ethnography - Boo has observed the slum from within and written her observations. But it doesn't read as such. The 'story' is written from the perspective of it's characters - who although I keep referring to them as such, are not characters at all, but real people with real lives. But Boo presents their thoughts, feelings and actions as fact, from a first person perspective - thoughts, feelings and actions that she could not possibly know, as much as she has made them repeat themselves to her, as many of the actions that she personally witnessed (and she admits that some of the book major events she was not there for). The mind is ultimately one's own, something Boo gives no recognition too. In an author's note, she briefly recounts her research methods and also hints at some of the problems that her presence in the slum caused. But she just as quickly writes these hints off as irrelevant to the overall story. They are not irrelevant and by removing her own voice from the story Boo has done her 'characters' a great disservice - she has not acknowledged the cause and affect of her own presence, which changes the context of the story dramatically.
Without Boo's voice a deeply affecting, well-written and IMPORTANT cultural story becomes at best a little questionable and at worst exploitative. Don't let that stop you reading it though - like I say, this story is an important one, worth telling and worth reading.
4/5 stars.