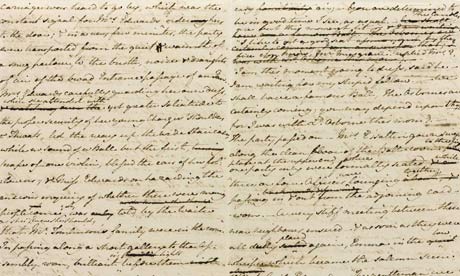 Part of the original manuscript for 'The Watsons'
I did it!! I finished up the Austen cannon, just in time for the end of
Austen in August
at Roof Beam Reader (I'll also be linking to another
Austen in August
event going on at The Book Rat). The Watsons and the Juvenilia were last on my list.
I thoroughly enjoyed
The Watsons
and felt rather disappointed when it suddenly stopped! It introduces Emma Watson, who has returned to her family home after spending most of her life being raised by a wealthy aunt. She has numerous older siblings and quickly finds that two of her older sisters in particular have given her family a bit of a bad name in local society with their ruthless husband hunting. Her older sister Elizabeth seems more sensible, though she has resigned herself to making a match without love as soon as possible, the love of her life having married someone else. Emma attends her first social event at the home of the Osbornes, the Watson's wealthy, titled neighbours, where she meets various secondary characters - including Lord Osbourne, who seems to be taking an interest in her. There, this scrap of potential novel ends.
The Watsons
, far more than
Sanditon,
felt just like reading the first few chapters of a complete Austen novel. The humour and wit was there and it seemed to have far more in common with her other finished works, from the family relations to the portrait of local society. It was fun! Emma's man-eating older sisters sounded like great potential characters, as was her more sensible sister Elizabeth. The arrogant Tom Musgrave (who one of the sisters is pursuing) sounded extremely intriguing. And Emma herself was simply adorable - the makings of a true Austen heroine. She sparkles with intelligence and compassion. The scene where she dances with 10 year old Charles at the ball was probably my favourite in the book. She is also set apart from the other Austen heroines, her family being genuinely poor. Her father is obviously extremely unwell, Austen confiding to her sister that she had planned for him to die in the course of the novel.
Even more than
Sanditon, The Watsons
had me stamping my feet that we will never get to see the finished product.
Austen's Juvenilia were an interesting read, especially as many of the pieces were obviously never intended for public consumption. The Austen we see through them is obviously extremely talented as a writer - getting to show off her talents outside of the novel format, but also at times extremely silly! The quality of the pieces varies wildly. My favourites were
A History of England
and
The First Act of a Comedy. Frederic & Elfrida
was probably my least favourite, just a little to silly!
Overall, both The Watsons and the Juvenilia are worth picking up by the Austen fan.
The Watsons
+
Sanditon
also fulfill one of my picks for
Classics Club